Events 2020
Discover the program of Maker Faire Rome 2020. Join the event for free
---
---
Sound Identity
What does your brand sound like?
Each brand needs a sound or music that identifies its personality to make the brand more recognizable and to create an emotional bond with the target audience. Sonic identity is the translation of a brand's values ​​and personality into musical language. Brands that have an association with music are 96% more likely to be remembered. From the brand's request to the search for sounds for the creation of the soun identity. Stefano Fontana, DJ, musician and founder of soundidentity.com, guides us along this path.
---
Event on digital.makerfaire.eu

---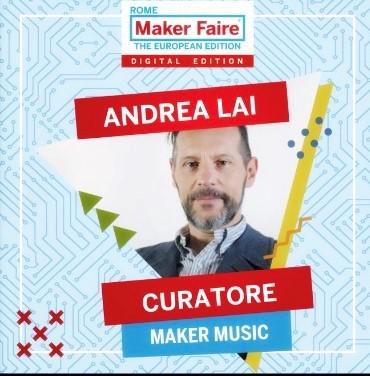 Andrea Lai
Andrea Lai inizia a suonare in una band crossover rap metal al liceo quando il rap metal non era ancora un genere musicale. Appena finito il liceo inizia a scrivere su XXX Skateboard Magazine rivista di culto della scena skateboard dei primissimi anni Novanta. La sua prima Intervista è ai Public Enemy. Ottiene la sua seconda intervistai infilandosi nel backstage di un concerto dei Metallica, prima di essere scoperto e accompagnato fuori. Continua a dedicarsi alla critica musicale, scrive per l'Espresso, la Repubblica, il Manifesto, Rockerilla, Rockstar e Metal Hammer. Mentre si dedica all'attività di giornalista, iscritto all'albo, continua a suonare in diverse band post-punk con le quali è spesso in tour, fino a quando scopre il fascino dei giradischi e decide di abbandonare le chitarre per dedicarsi alla musica elettronica. Dopo un'esperienza di Writer&Researcher per MTV a Londra, inizia a lavorare come Marketing&Promotion Manager per EMI Music per poi passare a Sony Music. Scrive il libro "Atari Phunk – Dall'hip hop ai Chemical Brothers" per Castelvecchi e diventa speaker di Radio Città Futura, dalle cui frequenze racconta l'ascesa della DJ culture. Siamo alla metà degli anni Novanta; insieme all'amico Riccardo Petitti organizza una serata in un centro sociale di Roma, fino a quel momento sconosciuto ai più: il Brancaleone. Grazie al lavoro della coppia Lai&Petitti, il Brancaleone diventa uno dei club più importanti e sperimentali d'Europa, votato fra i cinque migliori club internazionali da DJ Magazine. Andrea Lai suona in giro per il mondo, dalle serate con il Buena Vista Social Club in Argentina fino al Fabric di Londra e viene inserito dalla radio inglese BBC fra i DJ più influenti della scena di quegli anni. Inizia a collaborare con diversi brand (Nike, Red Bull, Carhartt, Monster, Levi's, Virgin Express, Diesel), sono i primi esperimenti di collaborazione fra artisti e grossi marchi e queste esperienze negli anni lo portano a diventare consulente artistico per festival, club, agenzie di comunicazione e a progettare eventi per istituzioni. Disegna eventi musicali ed azioni di intrattenimento continuando a tenere la comunicazione e il marketing aderenti al lavoro di progettazione artistica.
Stefano Fontana
Stefano Fontana, with a degree in electronic engineering, began DJing in Milan and London at the end of the 90s, interpreting the music scenes of Chicago, New York and Detroit and acquiring an international style capable of combining electro, hip hop, house, r'n'b and techno. In a short time he became one of the most popular names on the clubbing circuit: from England to Ibiza, from Mykonos to France, without forgetting the Magazzini Generali and Plastic in Milan, the base from which his experiments start. Parallel to his activity as a DJ and music producer, he is among the first to identify the market need to offer communication projects and contents based on a strategic use of music and sound and in 2010 he founded Sound Identity, the first Sound agency. Branding in Italy. He works for Adidas, MTV, Coca Cola, Dolce & Gabbana (with the collaboration of Hype Williams), Diesel, Nike and many others. In 2014 he was a judge in the first edition of the Top Dj program, broadcast on Sky Uno. Among his greatest hits: "Soul Reply" (2003), "Baby Beat Box" (2005), "Pure Imagination" (2006), "Boom!" ft Giuliano Sangiorgi (2013).
---
Category

Talk

· Type

Talk

Back

Data updated on 2020-12-13 - 11.41.07 pm