Events 2020
Discover the program of Maker Faire Rome 2020. Join the event for free
---
---
How music is made: Noyz Narcos
What's behind the music creation process? One of the central figures of rap in Italy tells us about it, in terms of style and path. An icon that over the years has been able to build its path, instinctively and without compromise. An artist with a clear imagination, unique and without discounts. Extreme, capable of telling reality through itself. Discussed and without half measures, Noyz Narcos has walked the troubled family from the undeground to the mainstream, without sacrificing its sound, its rhymes and its style.
---
Event on digital.makerfaire.eu
---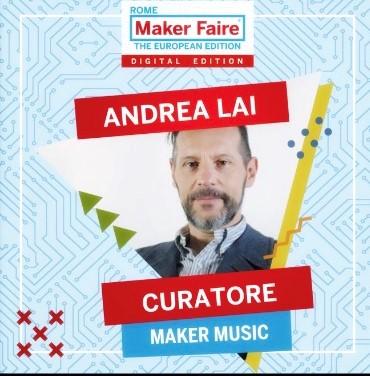 Andrea Lai
Andrea Lai inizia a suonare in una band crossover rap metal al liceo quando il rap metal non era ancora un genere musicale. Appena finito il liceo inizia a scrivere su XXX Skateboard Magazine rivista di culto della scena skateboard dei primissimi anni Novanta. La sua prima Intervista è ai Public Enemy. Ottiene la sua seconda intervistai infilandosi nel backstage di un concerto dei Metallica, prima di essere scoperto e accompagnato fuori. Continua a dedicarsi alla critica musicale, scrive per l'Espresso, la Repubblica, il Manifesto, Rockerilla, Rockstar e Metal Hammer. Mentre si dedica all'attività di giornalista, iscritto all'albo, continua a suonare in diverse band post-punk con le quali è spesso in tour, fino a quando scopre il fascino dei giradischi e decide di abbandonare le chitarre per dedicarsi alla musica elettronica. Dopo un'esperienza di Writer&Researcher per MTV a Londra, inizia a lavorare come Marketing&Promotion Manager per EMI Music per poi passare a Sony Music. Scrive il libro "Atari Phunk – Dall'hip hop ai Chemical Brothers" per Castelvecchi e diventa speaker di Radio Città Futura, dalle cui frequenze racconta l'ascesa della DJ culture. Siamo alla metà degli anni Novanta; insieme all'amico Riccardo Petitti organizza una serata in un centro sociale di Roma, fino a quel momento sconosciuto ai più: il Brancaleone. Grazie al lavoro della coppia Lai&Petitti, il Brancaleone diventa uno dei club più importanti e sperimentali d'Europa, votato fra i cinque migliori club internazionali da DJ Magazine. Andrea Lai suona in giro per il mondo, dalle serate con il Buena Vista Social Club in Argentina fino al Fabric di Londra e viene inserito dalla radio inglese BBC fra i DJ più influenti della scena di quegli anni. Inizia a collaborare con diversi brand (Nike, Red Bull, Carhartt, Monster, Levi's, Virgin Express, Diesel), sono i primi esperimenti di collaborazione fra artisti e grossi marchi e queste esperienze negli anni lo portano a diventare consulente artistico per festival, club, agenzie di comunicazione e a progettare eventi per istituzioni. Disegna eventi musicali ed azioni di intrattenimento continuando a tenere la comunicazione e il marketing aderenti al lavoro di progettazione artistica.
Noyz Narcos
Noyz Narcos, aka Emanuele Frasca, is one of the leading names in the Italian rap scene. Noyz begins to get noticed by the scene since 1994, but the real entry into the game can be dated back to 2002, when at the age of 23 the rapper joined the TruceBoys collective on a permanent basis. The collaboration is highlighted in the choral album "Sangue", published in 2003. At the same time, the TruceKlan was born, a project involving members of the TruceBoys. This is the first real flourishing period for the Roman rapper, who gives birth to "Non Dormire", an album that marks his solo debut (2005). The following year, together with Chicoria, he made "La Calda Notte". The single that gives the album its name is accompanied by a video that well represents the imagery of Noyz and the rappers who collaborate with him, so much so that due to its being pornographic and raw this will never be passed on by any television station. In 2007, the second solo episode of Noyz Narcos' career took place, "Verano Zombie". The work features collaborations with some sacred monsters of the Roman scene, among which Danno dei Colle Der Fomento stands out, and some leading exponents of the Milanese hip hop scene - including Gué Pequeno and Marracash of the Dogo Gang. The years following this record allow the public to fully understand the imagery of Noyz and TruceKlan, thanks to two "unofficial" but still important releases: the collection "Ministero dell'Inferno" by TruceKlan, in which Noyz is one of the many MCs to appear, and the project created in combination with Dj Gengis "Best Out", which in 2009 will be enriched with a second volume. "Guilty", the third solo album released in 2010, is the album that definitively consecrates Noyz Narcos as one of the big names on the scene. Right from the title - literally: guilty - the Roman rapper responds to a lot of talk in the general press about himself and that of his group, the TruceKlan. On the disc, in addition to Marracash and Club Dogo, we find Fabri Fibra, who on the TRL stage had already lavished himself in compliments for Noyz Narcos and who will want it the same year in his record "Chi vuole essre Fabri Fibra?". Fans will have to wait three years before a new solo project by the Roman rapper: it is in fact 2013 when "Monster" appears on the shelves of the stores. The record debuts in seventh position in the FIMI ranking and consolidates Noyz's already strong position in the Italian rap scene. In 2015 "Localz Only" was released. Also in this case the passion of Noyz Narcos for a filmic type of writing is evident, which makes his songs real rhyming scripts: the predominant imagery of the disc - from the cover - is that of western cinema, which permeates everyone. the video clips of the individual extracts. 2016 is the year in which Noyz joins a new producer: The Night Skinny. With him, the rapper released the single "Training Day" in June 2016, followed the following year by "Dope Games", a song contained in the TNS album "Pezzi". Between 2017 and 2018 the two collaborate on the creation of the fifth solo album by Noyz Narcos, "Enemy"
---
Category

Talk

· Type

Talk

Back

Data updated on 2020-12-13 - 11.41.07 pm