Events 2020
Discover the program of Maker Faire Rome 2020. Join the event for free
---
---
make sound in 3D spatialization
NTORNO LABS is a production company specialized in immersive audio technology.
Our goal is to transform the way we experience sound and perform music.
With our technology, immersive audio can be imagined anywhere: live performances, installations and virtual worlds.
This audiovisual experience is a short demo about the relationship between psychoacoustics, creativity and technology.
It's been recorded in binaural 3D audio.
This an audio format that replicates the same depth, movement and detail of sound that you'd perceive in a real space.
It's a convenient way to make immersive audio accesible to everyone by just using any pair of headphones.
In the demo, you'll see one of our most creative tool for sound spatialization in action: the Space-Performance-Controller.
For us, sound spatialization is a new form of art, and it's at the core of our design.
The SPC embodies that philosophy. It's a multitouch app that allows users to perform augmented sound spatialization, live, in real time.
You literally feel as if you are playing the space with your hands.
Like a painter on a blank sonic canvas.
Take a look...or rather, take a listen.
---
Event on digital.makerfaire.eu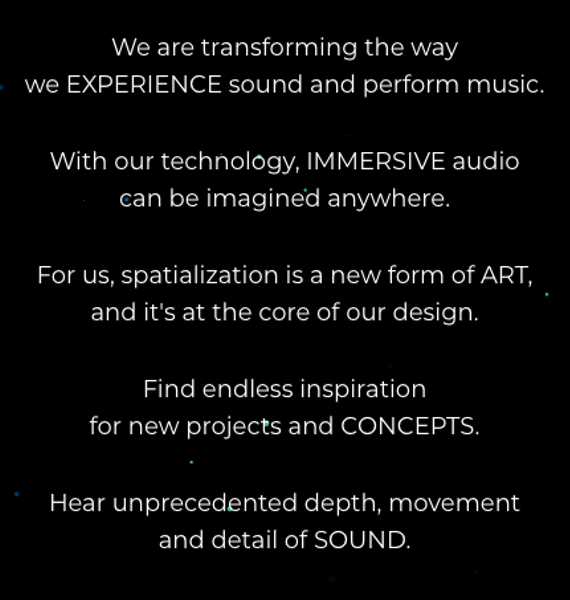 ---
---
Category

Performance

· Type

Performance

Back

Data updated on 2020-12-13 - 11.41.07 pm