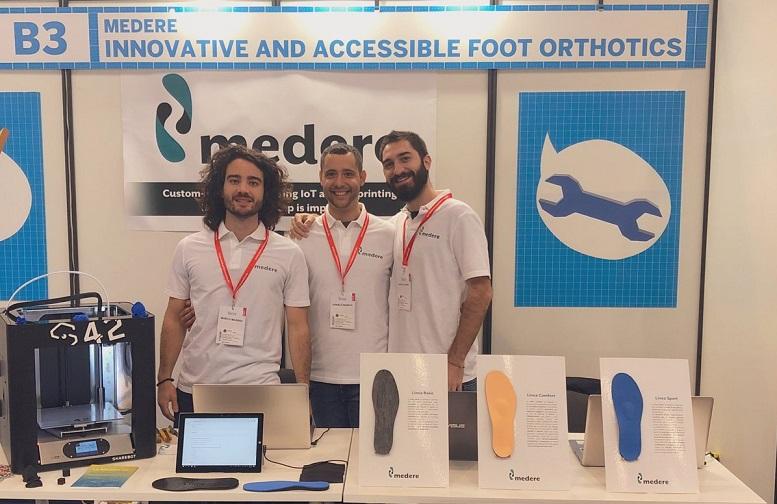 Solette sportive su misura con smartphone e stampa 3D
Medere developed a method based on technologies 4.0 to innovate the production process of custom-made insoles. Users can use our app to capture videos and images and to record his/her data from anywhere in the world. Our reconstruction and modelling algorithms guarantee a higher level of quality and customisation than competitors. 3D printing lowers costs, times and environmental impact. The reference market exceeds 3 billion euros and is constantly growing.
---
---
Medere
Medere Srl is an innovative start-up delivering innovative solution in the field of MEdical DEvices and REsearch. Medere has extensive expertise in imaging analysis, programming, CAD design, 3D printing, musculoskeletal modelling, gait analysis, programming and computer simulations. These skills come together in the realisation of high-quality and innovative foot orthotics. Medere Srl (www.medere.it) is a SME founded and registered in Italy in December 2018 by three friends with a background in Biomedical Engineering: Raffaele Ferrante, Daniele Bianchi and Marco Mannisi. The three co-founders come from different previous work experiences: Raffaele Ferrante worked in the R&D department of a SME focusing on programming, image analysis and management; Dr Daniele Bianchi is a post-doc researcher at Ecole des Mines de Saint-Etienne focusing on costitutive modeling and numerical simulation; Dr Mannisi holds a Marie Skłodowska-Curie Actions PhD and he focused his research on application of 3D printed custom-made foot-orthotics in the management of knee osteoarthritis. In 2017, the team met in the context of the annual meeting of the European Society of Biomechanics and decided to join to overcome the main limitations in the production of custom-made foot orthotics. The team already gains interest from public and private investors and companies and the idea has been awarded in several competitions. The mission of Medere is to create accessible and low-cost custom-made medical devices and medical technology to improve significantly patients' experience and quality of life. Allowing every person to get the best solution, with creativity and innovation, is the engine that pushed the founders during the development of their personal careers.
---
---
---
Back

Data updated on 2022-11-08 - 10.59.34 am
---