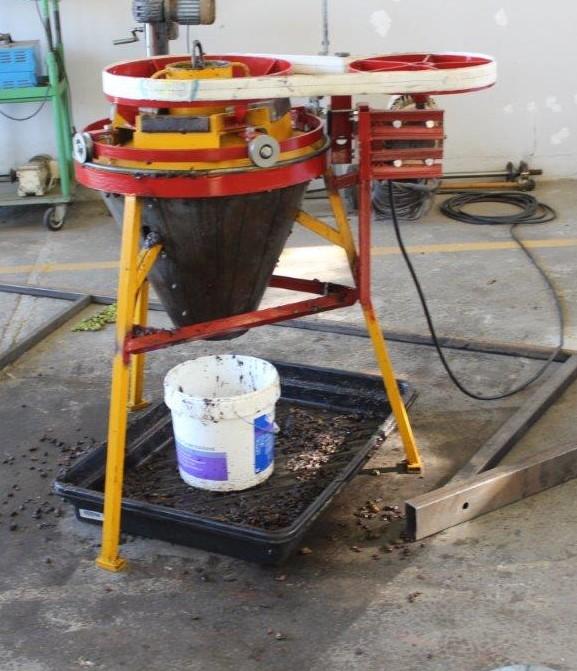 Apparato per la denocciolatura delle olive.
Patent n. 102018000006120
The systems for milling and extracting olive oils process whole olives.
In the malaxation phase, the kernels almonds can develop lipoxidasic activities that modify the organoleptic characteristics of the oils and reduce their shelf life.
From pitted olives, oils of greater stability and better nutraceutical and sensory characteristics are obtained.
The current pitting machines act by percussion and centrifugal projection of the drupe.
The patented innovation separates the pulps of the fruits from the kernels, operating by compression and extrusion at low-speed, to obtain pitted olive pastes with better rheological characteristics than those obtainable by centrifugal pitting machines; and with potential better efficiencies in extraction yields and in maintaining the organoleptic and nutraceutical characteristics of the extracted oil.
---
---
CREA
Pietro Toscano.
Graduate in Agricultural Sciences at the University of Bari;
Researcher at the Experimental Institute for Olive Growing (ex-ISOl, CRA-OLI, Rende, Cs);
Technologist at the Research Centre for Engineering and Agro-Food Processing (CREA-IT) in Treviglio (Bg)
Creator and actuator of research projects and experimental methods related to the optimizations of cultivation techniques and olive mechanization;
Teacher/instructor in training courses and demonstration events for students and operators in the olive-growing and olive-oil technologies;
Author/co-author of 70 publications on agromechanics in olive-grove, olive-mill and agro-industrial issues. https://orcid.org/0000-0001-8643-9687
Carlo Bisaglia
Researcher at CREA-IT, Italy. Graduated in Agricultural Science, Ph.D. in Technological Innovation for Agri-Food and Environ. Sciences.
Research: automation; precision farming; renewable energy; http://orcid.org/0000-0002-2699-0757
Maurizio Cutini
Full time researcher at CREA-IT, Research Center of Treviglio, Italy. After graduating in Mechanical Engineering, University of Rome, he achieved the Ph.D in Agriculture Mechanics at the University of Viterbo (Italy).
His research activity concerns analysis of the technical evolution of agricultural tractors to develop testing standard methodologies; analysis and control of vibrations in agricultural machines; safety for agricultural operators (vibrations, protective structure, machines' use safety); ergonomics of tractor's workplace; energy in agricultural farms; agricultural tires' characterization. He's one of the Italian delegates for the official OECD international tractor test activity.
ORCID ID: http://orcid.org/0000-0002-6003-5382
---
---
---
Back

Data updated on 2022-11-08 - 10.59.34 am
---