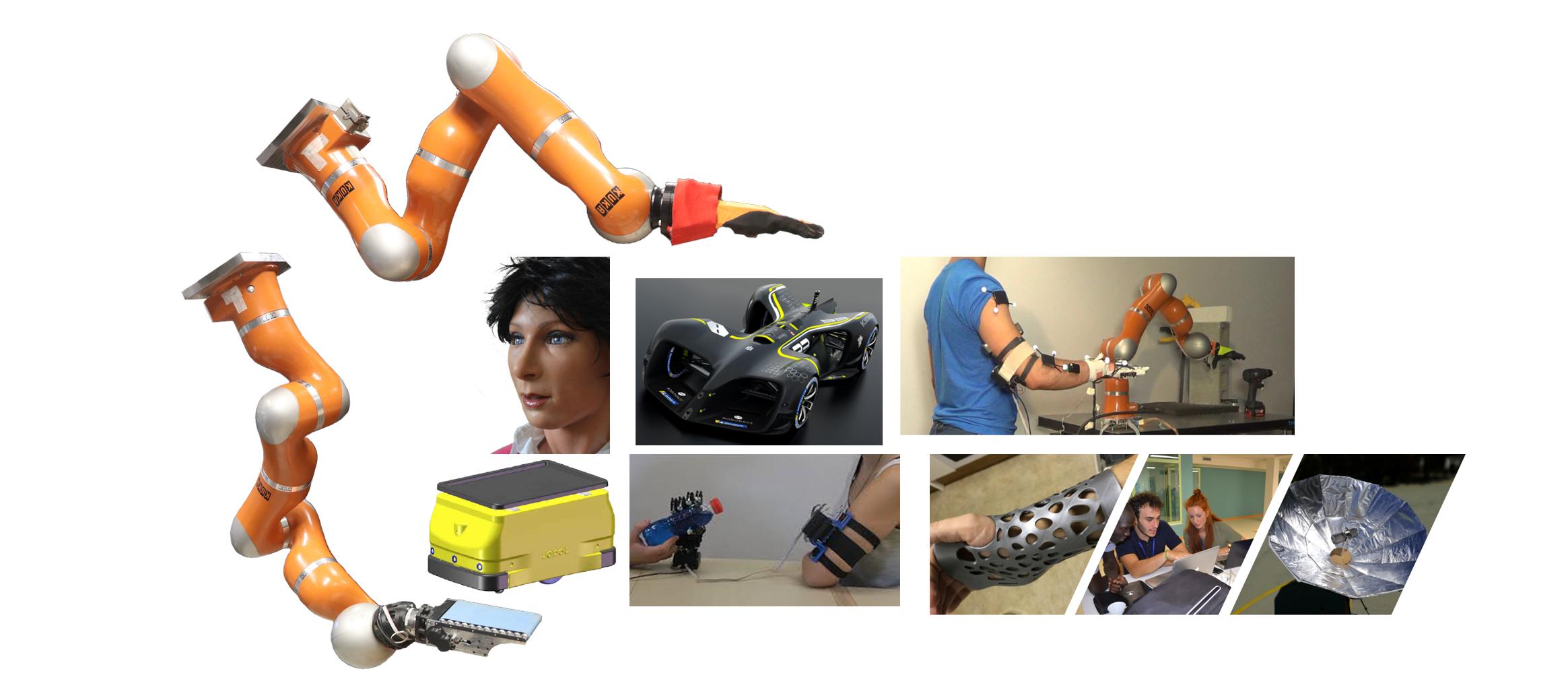 Intelligent mechatronic systems for humans and industry
In this exposition we will deal with: additive and advanced manufacturing for medical devices; methodological and experimental research on robotic manipulators, either autonomous or tele-operated, for physical human-machine interaction and Co-Botics; design and control 3d scanning systems and devices for virtual and augmented reality for medical applications and advanced human-machine interaction; technologies for the usage of mobile robots; android robotics; integration of artificial intelligence and physical machine intelligence for industrial and logistic application.
---
---
Centro di Ricerca "E. Piaggio", Università di Pisa
The Research Center "E.Piaggio" of the University of Pisa is one of the oldest interdisciplinary research and technology transfer centers in Europe, devoted to the training of personnel for careers in Research and Development. Since its foundation in September 1965, the Center has paved the way for the convergence of minds by bringing together scientists from different fields of knowledge, ranging from engineering to mathematics, medicine and psychology.
Some 100 researchers, including staff, post-docs and PhDs cooperate in the Center, which is also a point of reference for several Visiting scholars from all over the world. The Center has promoted spin-off projects with the cooperation of the University of Pisa, and it has opened laboratories and activated conventions with some hubs of industrial technology in the region of Tuscany. Centro Piaggio is currently involved in several international cooperative projects in the fields of Bioengineering and Robotics. Within the projects active at the moment we can list


DYSTURBANCE: Dynamic and static pusher to benchmark balance


THING: subTerranean Haptic INvestiGator


SOPHIA: Socio-physical Interaction Skills for Cooperative Human-Robot Systems in Agile Production


ILIAD - Intra-Logistics with Integrated Automatic Deployment: safe and scalable fleets in shared spaces


GIOTTO - advanced biomaterials and additive manufacturing technologies for biomedical devices against osteoporosis


The research center took part or directed also to a very high number of projects in the past, within those:


SoftPro - Synergy-based Open-source Foundations and Technologies for Prosthetics and RehabilitatiOn


WiMUST - Widely scalable Mobile Underwater Sonar Technology


SoMa - Soft-bodied intelligence for Manipulation


WALK-MAN - Whole body Adaptive Locomotion and Manipulation


PACMAN - Probabilistic and Compositional Representations of Objects for Robotic Manipulation


WEARHAP - Wearable Haptics for Humans and Robots


Softhands, a theory of SOFT synergies for a new generation of artificial HANDS


UBORA - an open source virtual platform for co-design open source medical devices


---
---
Research
Centro di Ricerca "E. Piaggio", Università di Pisa
2020
---
Back

Data updated on 2022-11-08 - 10.59.34 am
---