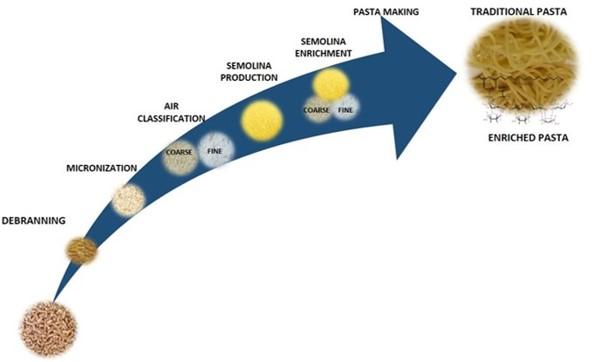 Processo per la produzione di pasta alimentare di grano duro ad elevato potenziale nutrizionale
The innovation was focused on the set up of an innovative technological process, based on micronization and air classification of partially debranned kernels, able to naturally increase the potential nutritional value of pasta. Enriched pasta was produced by adding to semolina two different ratios of coarse and fine flour fractions (25 and 50%, respectively). It is noteworthy that enriched pasta showed an increase of up to 113% in dietary fiber, along with a good cooking quality, as determined by the organoleptic test. The novel technological process allowed to produce pasta with a high content of bioactive compounds, naturally present in durum wheat, and minimal effects on cooking properties. The complete technological process and pasta products are subject of a patent.
---
---
Consiglio per la ricerca in agricoltura e l'analisi dell'economia agraria (CREA)
Laura Gazza è una biologa con un dottorato di Ricerca in Biotecnologie Vegetali. Attualmente è un ricercatore del CREA - Centro di Ricerca Ingegneria e Trasformazioni agroalimentari, sede di Roma. Ha più di vent'anni di esperienza nel campo della cerealicoltura, le sue linee di ricerca principali riguardano la genetica, la biochimica e la tecnologia dei cereali con un'attenzione particolare sui caratteri della qualità nutrizionale e tecnologica dei cereali, anche dei cereali cosiddetti minori a ridotto o nullo indice di glutine.
---
---
Life
Consiglio per la ricerca in agricoltura e l'analisi dell'economia agraria (CREA)
2020
---
Back

Dati aggiornati il 08/11/2022 - 10.59.34
---