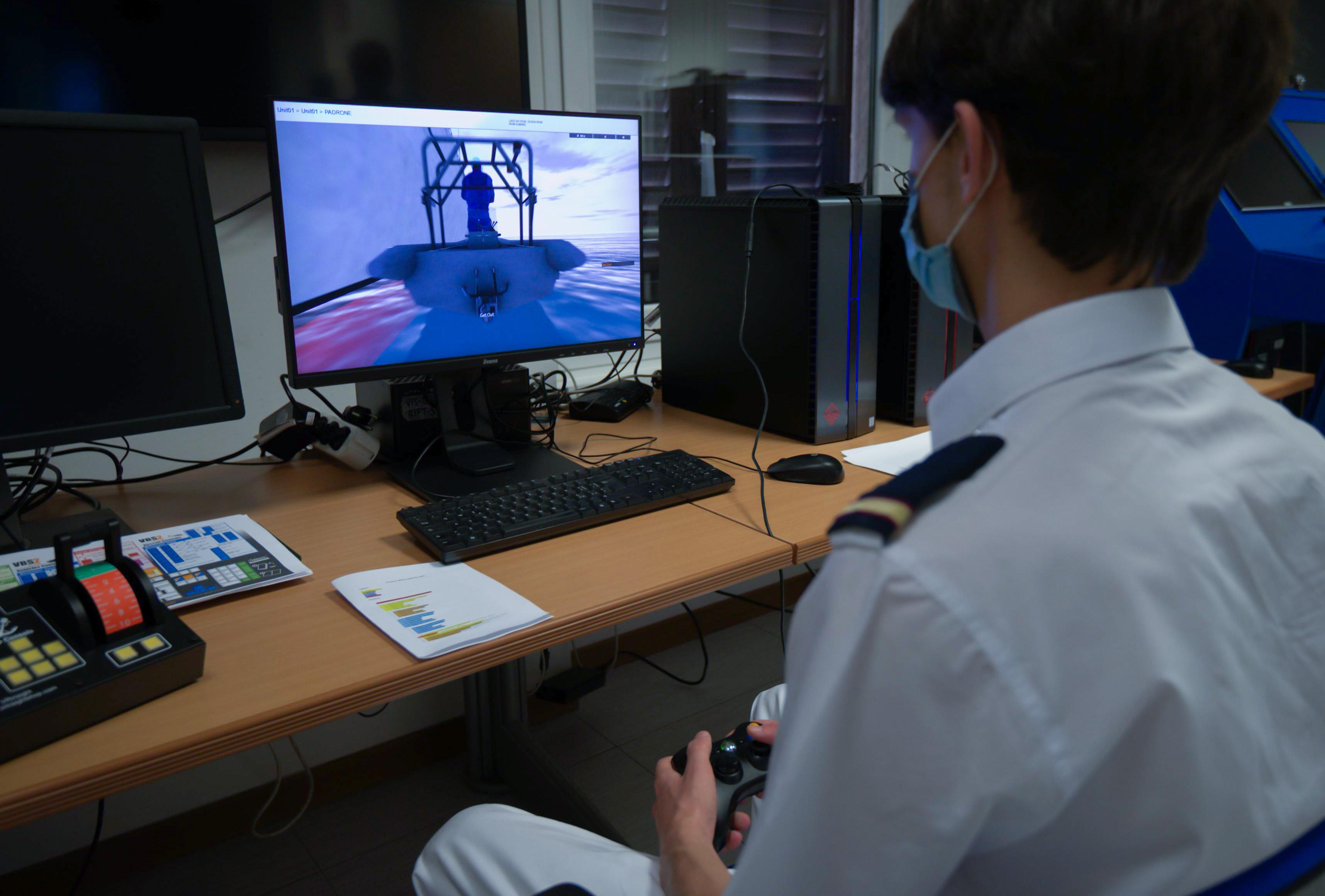 Virtualmente Sicuri
Virtually Safe project (simulation to navigate safely) is centered on what is the fundamental principle of the navigation code: all seafarers shall be properly educated and trained, adequately experienced, skilled and competent to perform their duties in a manner which provides for the safety of life, property and security at sea and the protection of the marine environment. The simulation allows us to educate and train even before getting on board. We have chosen a standard safety procedure: the launch of the lifeboat.
---
---
ITS Fondazione Accademia Italiana Marina Mercantile
Italian Shipping Academy (FAIMM) is a public fundation, recognised by Italian Ministries of Transport and Education, providing educational and training services, in full compliance with STCW 2010 and ISO 9001:2015 Quality Standard.
Italian Shipping Academy was established in 2005 for the education and training of maritime professionals. It focuses specifically on Deck and Engine Cadets.
In 2018 FAIMM has been awarded with IAMU membership.
FAIMM has 3 branches providing courses for marine-harbour field, onboard hotel services and onboard passengers services.
ITS educational offer:
MARINE-HARBOUR FIELD:
• ITS Course Deck and Engine
• ITS Course – Transports and Logistics
• ITS Course – Railway Transports
• ITS Course – Onboard assembly Technician
• Course Ex-Allineamento
ONBOARD HOTEL SERVICES:
• ITS Course – Pastry cook/baker
• ITS Course – Hospitality service specialist
ONBOARD PASSANGERS SERVICES:
• ITS Course – Multimedia Technician
• ITS Course – Ship's Purser
Educational offer
UNEMPLOYED PEOPLE COURSES (FSE)
• Front office expert
• Entertainer kids and adults
• Cruise consultant
• Turist expert
• Entertainment technician
• Photographer
• Chef (onboard)
• Desktop Publisher
• Children and teen animator
• Hospitality service specialist
• Pastry cook
FAIMM organizes high level training courses as required by the II/2 and III/2 of STCW Convention. The purpose of these courses is to update and upgrade the technical competence and managerial skills of:
• Captains and Chief Engineers
• 2nd and 3rd Deck (300 hours) and Engine Officers (570 hours) to get the qualification licensee after examination
The above requirements apply to both merchant ships and pleasure boats.
Our Academy is also seat of one of the three IMO's education and training agency:
IMSSEA – International Maritime Safety Security and Environment Academy
IMSSEA represents a reference body worldwide for Maritime education and training.
The education and training path for cadets currently lasts for 3 years, alternating classroom, training center and on the job periods on board.
To attend FAIMM, candidates must pass both a written and an oral examination regarding technical and nautical subjects, English and attitude skills.
FAIMM courses provide a complete technical and personal skills training for cadets.
Once completed the educational path, the cadets attend a final exam to get ITS and the 3rd Officer (CoC) qualifications.
Academy has recently signed an agreement with Southampton Solent University, that recognizes our Deck ITS/CoC qualification as a degree level to enter their master degree courses BSc Marine Operations Management and the BSc Maritime Management. We are waiting for a similar recognition for Engine  ITS/CoC qualification from Solent and from Rostock universities.
FAIMM courses are totally free for trainees and shipowner companies as well.
FAIMM operates in close cooperation with Shipowners companies, providing tailor-made education and training paths, starting from the selection process to the final exam.
FAIMM is always looking worldwide for new partners to work with.
FAIMM especially focuses on Cruise Companies, where its cadets can excel.
FAIMM partnership motto is:
«We have what Shipowners want, at no costs, with excellence».
---
---
Education
ITS Fondazione Accademia Italiana Marina Mercantile
2020
---
Back

Dati aggiornati il 08/11/2022 - 10.59.34
---