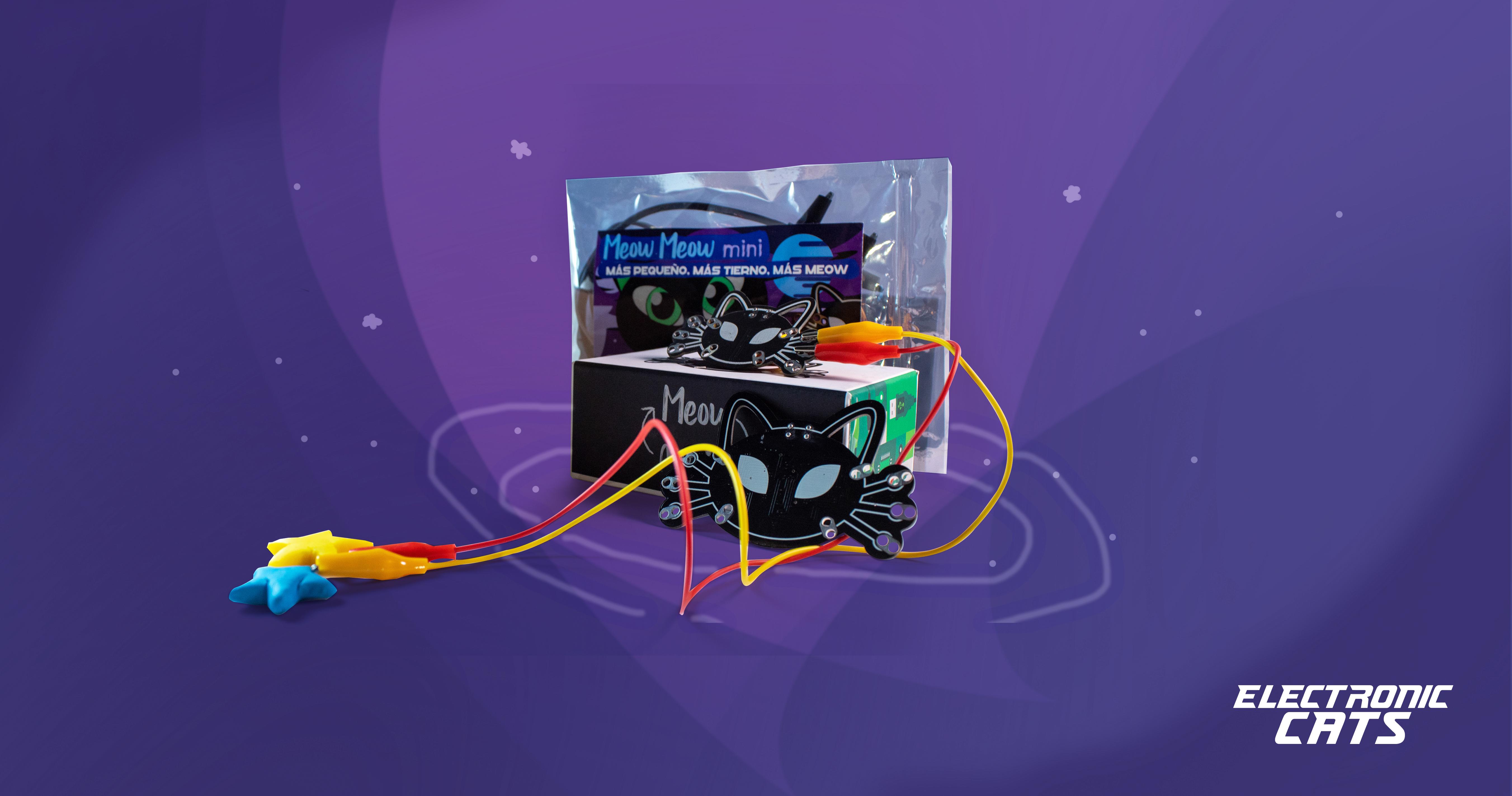 Meow Meow
Meow Meow is an electronic board designed by Electronic Cats that simulates some configurable keyboard and mouse keys. Meow Meow has the characteristic of being able to connect any material that conducts electricity by converting these objects into touch panels.
It is a kit of experiments for beginners and experts who seek to interact between real world and technology. Meow meow can cover the areas of plastic arts, visual arts, music, sports, engineering and even physical rehabilitation.
How does it work?
The Meow Meow board uses high capacitance switching to detect when you have made a connection even with materials that are not very conductive (such as sheets, paste or people). It has 10 inputs on the front of the board, which are those that are connected through cables, alligators or anything that occurs to the conductive objects.
There are 5 entries on the back, in case you need extra keys or if you want to mimic the movement of the mouse.
When you touch the conductive object a connection is made, and Meow Meow sends a keyboard message to the computer.
The computer recognizes Meow Meow as a keyboard (or mouse), thanks to this it works with all programs, operating systems and web pages without needing any special driver or program.
We make a Practice Manual Adventure for KIDS!
A practice manual has been generated to work with basic education children using teaching techniques where children learn by playing. In this practice manual it tells the adventure of our character Sam, who is an inventor cat who travels throughout the STEAM universe looking for new rangers (reader) to join his team to discover the mysteries and surprises that await them on each planet. In this manual, 20 example practices and 10 projects from different areas of STEAM are proposed for the reader to learn and carry out the proposed challenges together with their tutor or teacher.
---
---
Electronic Cats
Electronic Cats inizia la sua attività il 24 gennaio 2017 con lo scopo principale di creare Hardware che facilitino la soluzione dei problemi esistenti nel settore a costi economici e con una qualità professionale, fornendo alternative personalizzate per soddisfare qualsiasi esigenza legata alla tecnologia.
Questa organizzazione inizia nel 2016 con l'idea di un grande progetto ideato da 4 amici con profili e conoscenze ingegneristiche, osservando la necessità che esiste di creare Hardware che facilitino la soluzione dei problemi esistenti nel settore a costi economici e con qualità professionale. Oltre alla creazione di nuovo hardware che incoraggia l'istruzione e l'adozione di nuove tecnologie in diversi campi.
---
---
Education
Electronic Cats
2020
---
Back

Dati aggiornati il 08/11/2022 - 10.59.34
---