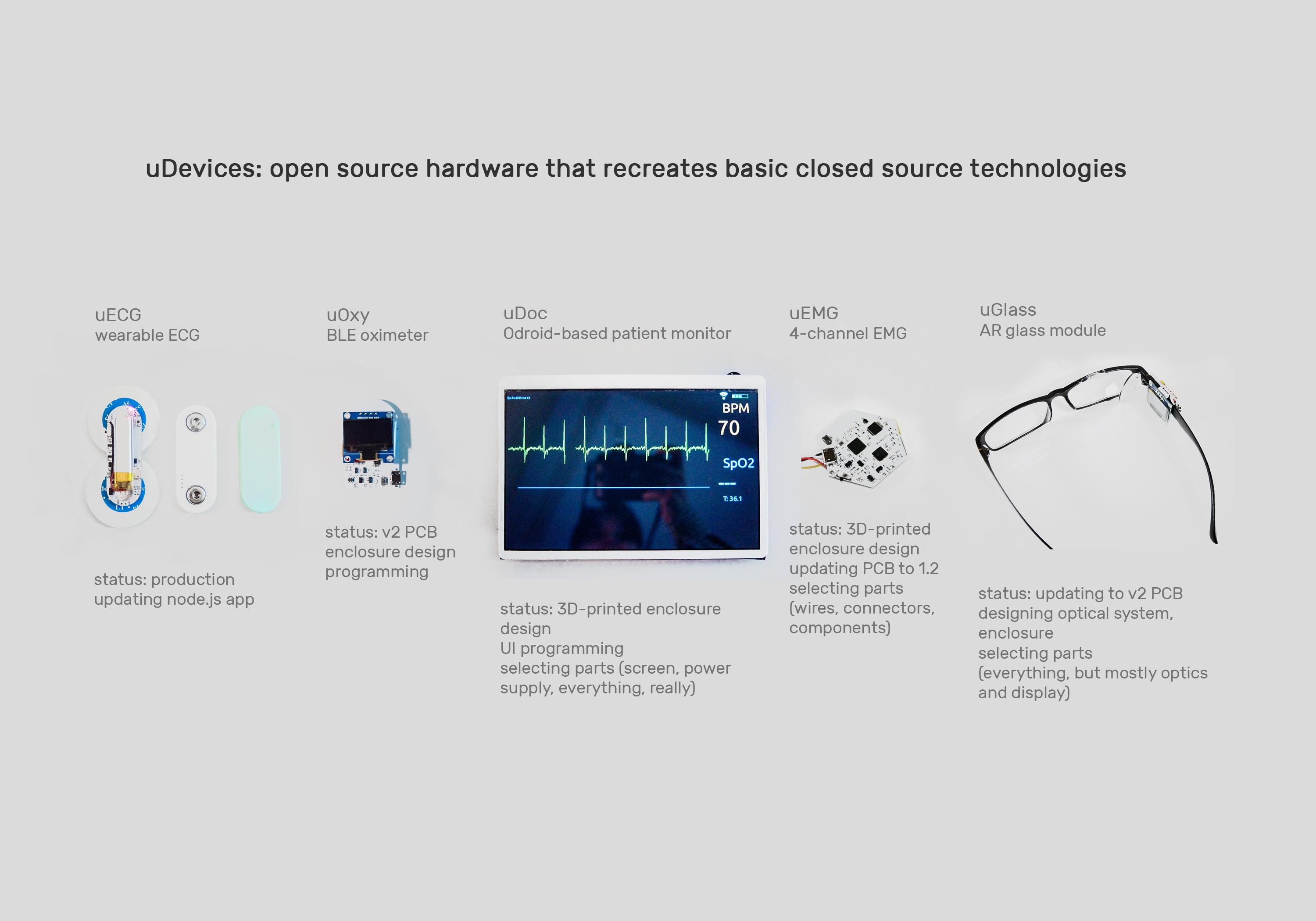 uDevices - an open ecosystem of wearables
uDevices is an open hardware ecosystem of biosignals devices that can be used as medical aids, research aids, fitness wearables, or for development of biosignals projects. All devices are open source, with project files and source code published openly, and some of them are produced and sold by our team as well.
There are currently 5 uDevices, in various stages of development. They are:


uECG - wearable ECG device, in production since 2019;


uEMG - 4-channel EMG device, now in development;


uOxy - Bluetooth oximeter, now in development;


uDoc - open source patient monitor, prototype;


uGlass - AR glass module (for any glasses), prototype;


We intend for all uDevices to work together, measuring biosignal activity (ECG, EMG, SpO2), and display it (uDoc, uGlass, now also Android and desktop monitor apps), and provide raw signal data. This way, all information will be shared quickly, presented visibly, and raw data can be analyzed or used for research.
With uDevices, our goal is to make existing basic technologies widely available by making them open source, high quality, and ready for production. This way they can be used to develop new projects based on them, or out of the box as finished devices, with little preparation - just like commercial hardware.
---
---
Ultimate Robotics
We are a 4-person team from Kyiv, Ukraine, and we really love technology! We worked as freelance hardware developers on commercial projects for many years, but always wanted to develop our own stuff - and spent all our money on doing it! Currently, our biggest project is uDevices, the open source hardware ecosystem of devices to measure and display biosignals - ECG, EMG, and SpO2.
Our goal is to make basic technologies available and open for all. We do our own PCB design and firmware development, and assemble prototypes manually - recently we also started producing one of our devices (uECG) and started doing 3D printing ourselves, too. All of this, and our experience with hardware, is something we'd love to share with you on MakerFaire!
---
---
Health
Ultimate Robotics
2020
---
Back

Dati aggiornati il 08/11/2022 - 10.59.34
---