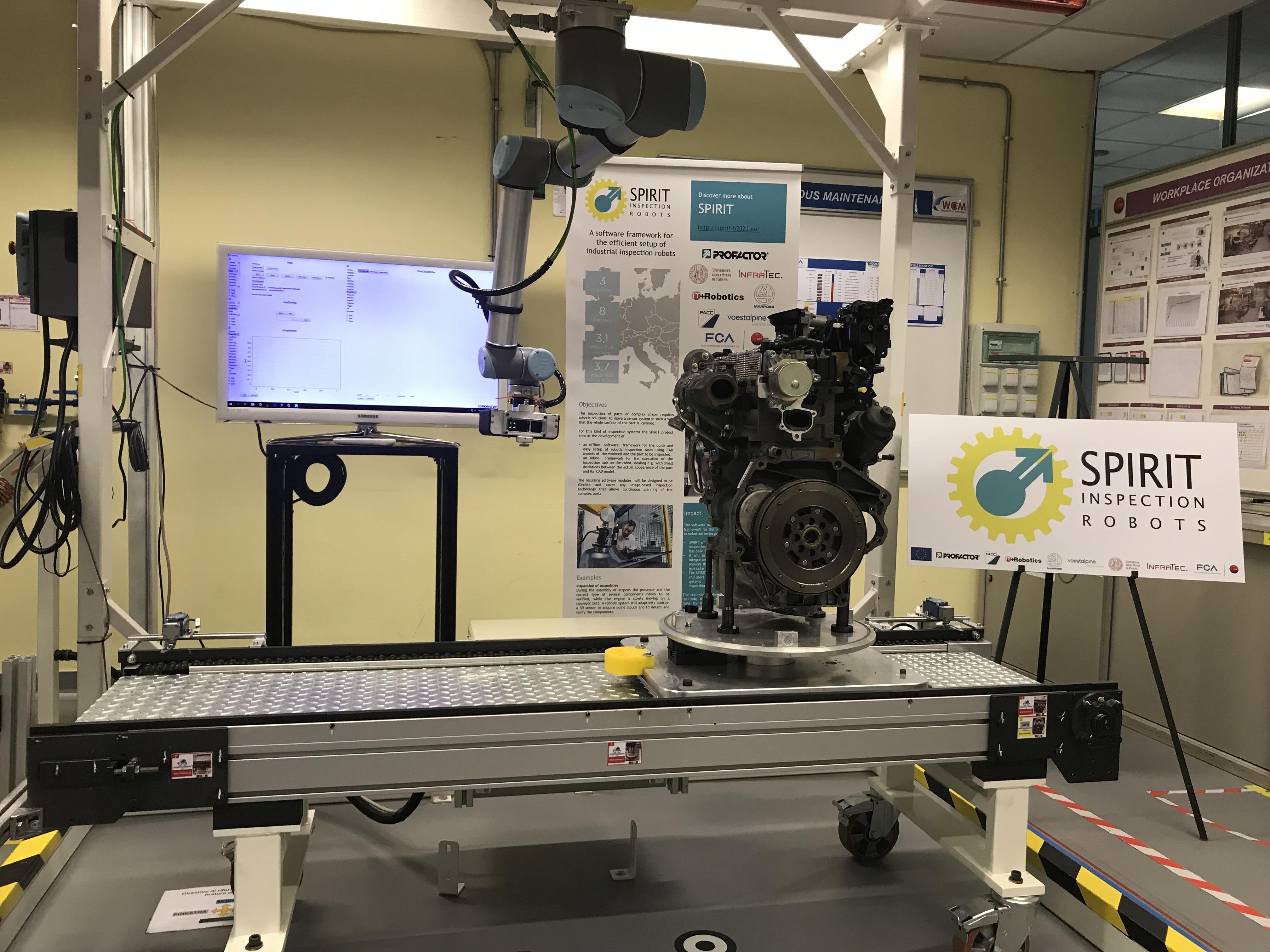 SPIRIT - A software framework for the ecient setup of industrial inspection robots
The SPIRIT projects aims to develop an "inspection skill" for robots that takes the step from programming of complex inspection tasks to configuring such tasks. This will reduce the engineering costs when setting up inspection robots in industrial environments. The main result is a software framework that consists of two parts:


The "offline framework" - a simulator of the real robotic work-cell that is used for developing the inspection task: simulate the robot, generate the inspection trajectory.


The "inline framework" - it actually executes the simulated inspection on the real robot.


---
---
University of Padova (Intelligent Autonomous Laboratory - Department of Information Engineering), It+Robotics Srl, Profactor Gmbh, FACC AG, Marposs Spa, Centro Ricerche Fiat, Voestalpine BÖHLER Aerospace
Università di Padova - Emanuele Menegatti
Emanuele Menegatti è Professore Ordinario della Facoltà di Ingegneria del Dipartimento di Ingegneria dell'Informazione dell'Università di Padova dal 2017. Ha conseguito il dottorato di ricerca in Informatica nel 2003, nel 2005 è diventato Assistente e Professore Associato nel 2010. Menegatti è stato guest editor di alcuni numeri speciali della rivista Robotics and Autonomous Systems Elsevier. I principali interessi di ricerca di Menegatti sono nell'ambito dei sistemi di percezione distribuita 3D e di Robot Perception. In particolare, sta lavorando al tracciamento delle persone con sistemi RGB-D per reti di telecamere, la neurorobotica e la robotica di servizio. Insegna corsi di master su "Robotica autonoma", "Elaborazione dati tridimensionali" e corso di laurea in "Architettura del computer" e un corso per insegnanti delle scuole su "Robotica educativa".
È stato coordinatore del progetto FP7 FoF-EU "Thermobot" e principal investigator locale per i progetti europei "3DComplete" e "FibreMap" e "Focus" nel FP7; "eCraft2Learn" e "SPIRIT" in H2020.
È stato presidente generale della 13a Conferenza internazionale "Intelligent Autonomous System" IAS-13 e presidente del programma IAS-14 e IAS-15. È autore di oltre 50 pubblicazioni su riviste internazionali e di oltre 120 pubblicazioni in conferenze internazionali. Nel 2005 Menegatti ha fondato IT+Robotics, società Spin-o dell'Univ. di Padova, attiva nel campo della visione robotizzata industriale, della visione artificiale per il controllo qualità , della programmazione automatica online dei robot. Nel 2014 ha fondato EXiMotion, una startup attiva nel campo della robotica educativa e della robotica di servizio.
Università di Padova - Daniele Evangelista
Daniele è dottorando all'Università di Padova, presso il Dipartimento di Ingegneria dell'Informazione nel Laboratoriodi Sistemi Intelligenti Autonomi (IAS-Lab). I suoi interessi di ricerca riguardano la visione artificiale per l'ispezione industriale, con particolare attenzione ai sistemi autonomi di ispezione. Altri interessi di ricerca sono nel Machine Learning e nel Deep Learning in particolare per il rilevamento e la localizzazione di oggetti con dati sintetici. Nel 2013 Daniele ha fondato una società denominata Alibabyte Software House, specializzata nello sviluppo di software general purpose e applicazioni mobile e web. Nel 2019 Daniele ha fondato una società denominata FlexSight, che sviluppa soluzioni innovative di visione artificiale per i settori industriale, medico e agricolo.
---
---
Research
University of Padova (Intelligent Autonomous Laboratory - Department of Information Engineering), It+Robotics Srl, Profactor Gmbh, FACC AG, Marposs Spa, Centro Ricerche Fiat, Voestalpine BÖHLER Aerospace
2020
---
Back

Dati aggiornati il 08/11/2022 - 10.59.34
---