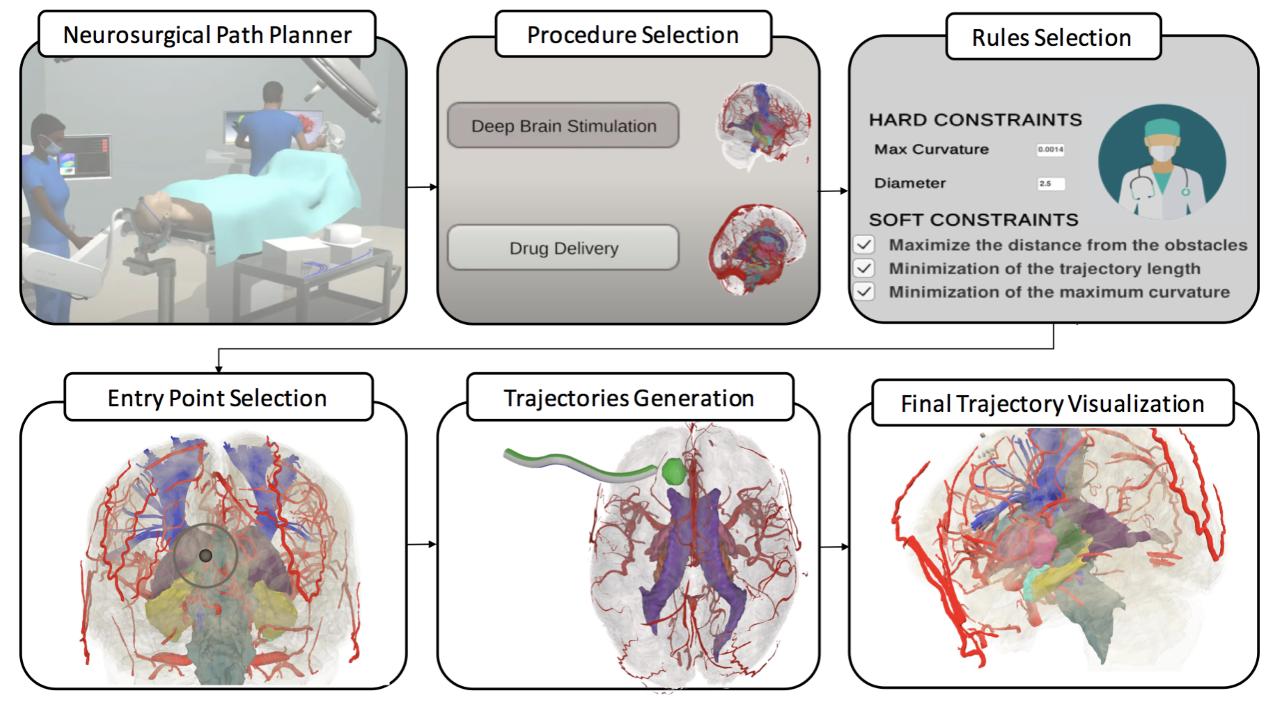 Let the images guide you: image-based path planning in surgical interventions
During recent years minimally-invasive surgery (MIS) has seen a tremendous development. MIS allows safer interventions, shorter recovery time with less risk of infection and complications, but it comes at the price of several new challenges for surgeons. One of the most relevant is the riduced field-of-view, which makes it difficult for surgeons to understand where the tools are located with respect to the anatomy. We would like to present two main path-planning tools we are developing for neurosurgical and endovascular procedures, based on machine-learning approaches.
---
---
NearLab - Neuroengineering and medical robotics, Politecnico di Milano
Alice Segato was born on April 3rd, 1994, in Monza (MB), Italy. In July 2016, she obtained the Bachelor of Science in Computer Engineering at Politecnico di Milano. In September 2018, she obtained the Master of Science in Computer Science and Engineering at Politecnico di Milano, defending the thesis "Surgical 3D Path Planning For Keyhole Neurosurgery and Deep Brain Stimulations with Patient's Tractography Information". Since November 2018, she is a Ph.D. student at the Department of Electronics, Information and Bioengineering (DEIB) of the Politecnico di Milano. Her main research interests include Robotics, Artificial Intelligence and Machine Learning, in the field of Minimal Invasive Neurosurgery.
Zhen Li is a joint Ph. D. student from Politecnico di Milano (POLIMI), along with Delft University of Technology (TU Delft), as an Early Stage Researcher (ESR) with the Marie Curie ATLAS project under European Union Innovative Training Network. Zhen received her Bachelor of Engineering (B.Eng.) degree in Intelligent Science and Technology from Nankai University (NKU), China in 2017. She continued with her ERASMUS MUNDUS Master, European Master on Advanced Robotics + (EMARO+) at Warsaw University of Technology (WUT) and Ecole Centrale de Nantes (ECN) from 2017 to 2019. Currently, Zhen is working on path planning in the Neuroengineering and Medical Robotics Laboratory (NearLab) at POLIMI under the supervision of Prof. Dr. Elena De Momi (POLIMI) and Prof. Dr. Jenny Dankelman (TU Delft).
---
---
Research
NearLab - Neuroengineering and medical robotics, Politecnico di Milano
2020
---
Back

Dati aggiornati il 08/11/2022 - 10.59.34
---