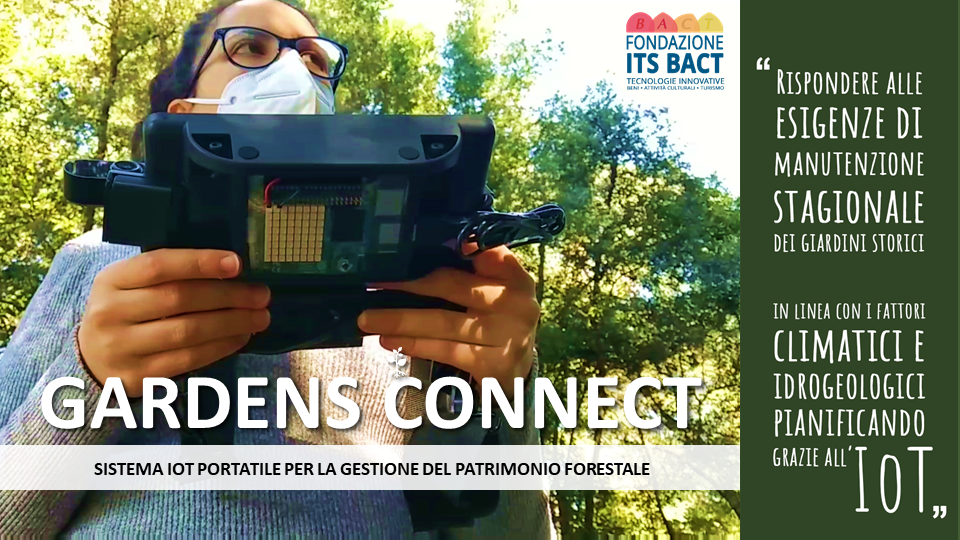 GARDENS CONNECT
Through the Internet of Things it will be possible to improve predictive maintenance operations, identifying multiple parameters that are measured and processed in order to predict maintenance interventions. It will be possible to develop a history of vetegation by mapping the characteristics, needs and history of the interventions, giving the possibility to recreate a sort of interactive encyclopedia of the vegetation that also acts as an "instructions for use".
---
---
ITS BACT "Restauro 4.0" Classroom - Alfonsina Verrilli - Stefania De Sio - Pablo Ramirez
Alfonsina Verrilli (Coordinatrice del corso)
Stefania De Sio (Esperta di ICT, Referente del progetto ITS 4.0 & Design Thinking)
Pablo Ramirez (Esperto di ICT, Design Thinking e Sviluppatore di IA)
Il team della classe ITS "Tecnico superiore per la conduzione del cantiere di restauro architettonico" a indirizzo "Tecnologie innovative per gli edifici, i giardini e i parchi storici".
Il gruppo di studenti che ha partecipato alla fase di prototipo è il seguente:


Chiara Affabile


Chiara Amaturo


Michele Amordeluso


Alba Rosaria Ceruso


Vanessa Ciavarella


Luigi Crimi


Anna Di Costanzo


Maria Vittoria Maltese


Federica Manna


Giovanni Margiore


Francesca Riccio


Giorgio Storoni


I Tecnici Superiori sono in grado di operare come responsabili di cantiere di restauro di un edificio, ma anche di un giardino e/o di un parco storico; collaborano nelle fasi di lettura, pianificazione, organizzazione, gestione e controllo dei processi progettuali ed esecutivi; assicurano la corretta conduzione delle attività gestionali e operative attraverso l'utilizzo delle metodologie, delle tecnologie e degli strumenti più avanzati della smart building e restoration oltre che il BIM (Building Information Modelling) in via di utilizzo obbligatorio (nuovo Codice Appalti) e il consolidato GIS (Geographic information System), rapportandosi e inserendosi nel quadro organizzativo che vede impegnati i diversi attori, nel rispetto
degli standard di qualità, sicurezza e salvaguardia dell'ambiente.
I Tecnici Superiori realizzano interventi volti alla conservazione, al rinnovamento, al rifacimento e alla cura di elementi, spazi, diverse categorie di architetture edili e vegetali, padroneggiando con gli elementi storici connessi; garantiscono l'elaborazione e la gestione ottimale della computistica per la redazione di offerte economicamente più vantaggiose per l'aggiudicazione e la gestione economica di appalti.
---
---
Education
ITS BACT "Restauro 4.0" Classroom - Alfonsina Verrilli - Stefania De Sio - Pablo Ramirez
2020
---
Back

Dati aggiornati il 08/11/2022 - 10.59.34
---