Events 2020
Discover the program of Maker Faire Rome 2020. Join the event for free
---
---
Moog. The classic sound of electronic music
Kraftwerk, New Order, Nine Inch Nails, Donna Summer, Portishead have in common a musical instrument that has helped make their music eternal: the Moog. A Moog synthesizer that has influenced the sound of music for generations. Together with Enrico Cosimi we discover how the most classic sounds in the history of electronic music have been created withe The Moog.
---
Event on digital.makerfaire.eu

---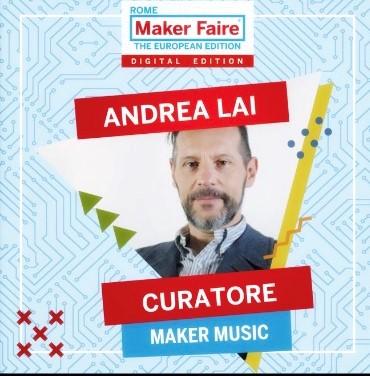 Andrea Lai
Andrea Lai inizia a suonare in una band crossover rap metal al liceo quando il rap metal non era ancora un genere musicale. Appena finito il liceo inizia a scrivere su XXX Skateboard Magazine rivista di culto della scena skateboard dei primissimi anni Novanta. La sua prima Intervista è ai Public Enemy. Ottiene la sua seconda intervistai infilandosi nel backstage di un concerto dei Metallica, prima di essere scoperto e accompagnato fuori. Continua a dedicarsi alla critica musicale, scrive per l'Espresso, la Repubblica, il Manifesto, Rockerilla, Rockstar e Metal Hammer. Mentre si dedica all'attività di giornalista, iscritto all'albo, continua a suonare in diverse band post-punk con le quali è spesso in tour, fino a quando scopre il fascino dei giradischi e decide di abbandonare le chitarre per dedicarsi alla musica elettronica. Dopo un'esperienza di Writer&Researcher per MTV a Londra, inizia a lavorare come Marketing&Promotion Manager per EMI Music per poi passare a Sony Music. Scrive il libro "Atari Phunk – Dall'hip hop ai Chemical Brothers" per Castelvecchi e diventa speaker di Radio Città Futura, dalle cui frequenze racconta l'ascesa della DJ culture. Siamo alla metà degli anni Novanta; insieme all'amico Riccardo Petitti organizza una serata in un centro sociale di Roma, fino a quel momento sconosciuto ai più: il Brancaleone. Grazie al lavoro della coppia Lai&Petitti, il Brancaleone diventa uno dei club più importanti e sperimentali d'Europa, votato fra i cinque migliori club internazionali da DJ Magazine. Andrea Lai suona in giro per il mondo, dalle serate con il Buena Vista Social Club in Argentina fino al Fabric di Londra e viene inserito dalla radio inglese BBC fra i DJ più influenti della scena di quegli anni. Inizia a collaborare con diversi brand (Nike, Red Bull, Carhartt, Monster, Levi's, Virgin Express, Diesel), sono i primi esperimenti di collaborazione fra artisti e grossi marchi e queste esperienze negli anni lo portano a diventare consulente artistico per festival, club, agenzie di comunicazione e a progettare eventi per istituzioni. Disegna eventi musicali ed azioni di intrattenimento continuando a tenere la comunicazione e il marketing aderenti al lavoro di progettazione artistica.
---
Category

Talk

· Type

Talk

Back

Data updated on 2020-12-13 - 11.41.07 pm