Quarantined kids might get bored: Apple commits to engage them for a full month 
Apple is doubling down on helping people cope with their new normal during the global COVID-19 outbreak. Aside from designing an app and producing millions of Apple-designed face shields for healthcare professionals, as well as offering self-isolation playlists and free ebooks to the masses, the Cupertino giant has released a worksheet to keep kids occupied during this stay-home period.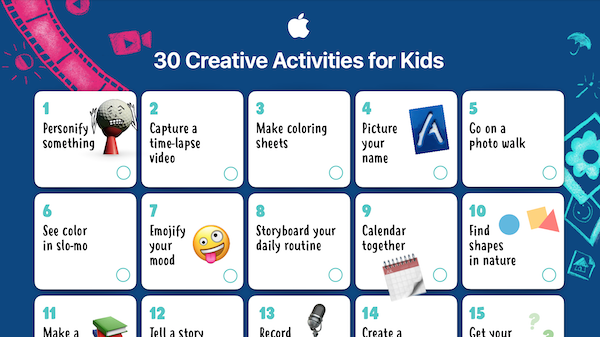 The resource,
shared by
Apple Education
, encompasses 30 recommendations for activities kids can do to continue nurturing their creative spark during home-based learning.
Suggestions include taking a photo walk around their home or yard, capturing a time-lapse video, taking pictures of surrounding books or signs to spell out their names, and creating a comic strip.
"We know parents out there are juggling a lot in this challenging time," CEO Tim Cook tweeted. "Apple's education team has some fun ways to keep kids everywhere creating."
The worksheet can be printed over here.
Apple has also shared a lineup of its favorite apps for working and spending time at home during self-isolation.
Apple Education

 

✔@AppleEDU
---
Maker Faire Rome – The European Edition has been committed since eight editions to make innovation accessible and usable to all, with the aim of not leaving anyone behind. Its blog is always updated and full of opportunities and inspiration for makers, makers, startups, SMEs and all the curious ones who wish to enrich their knowledge and expand their business, in Italy and abroad.
Follow us, subscribe to our newsletter: we promise to let just the right content for you to reach your inbox