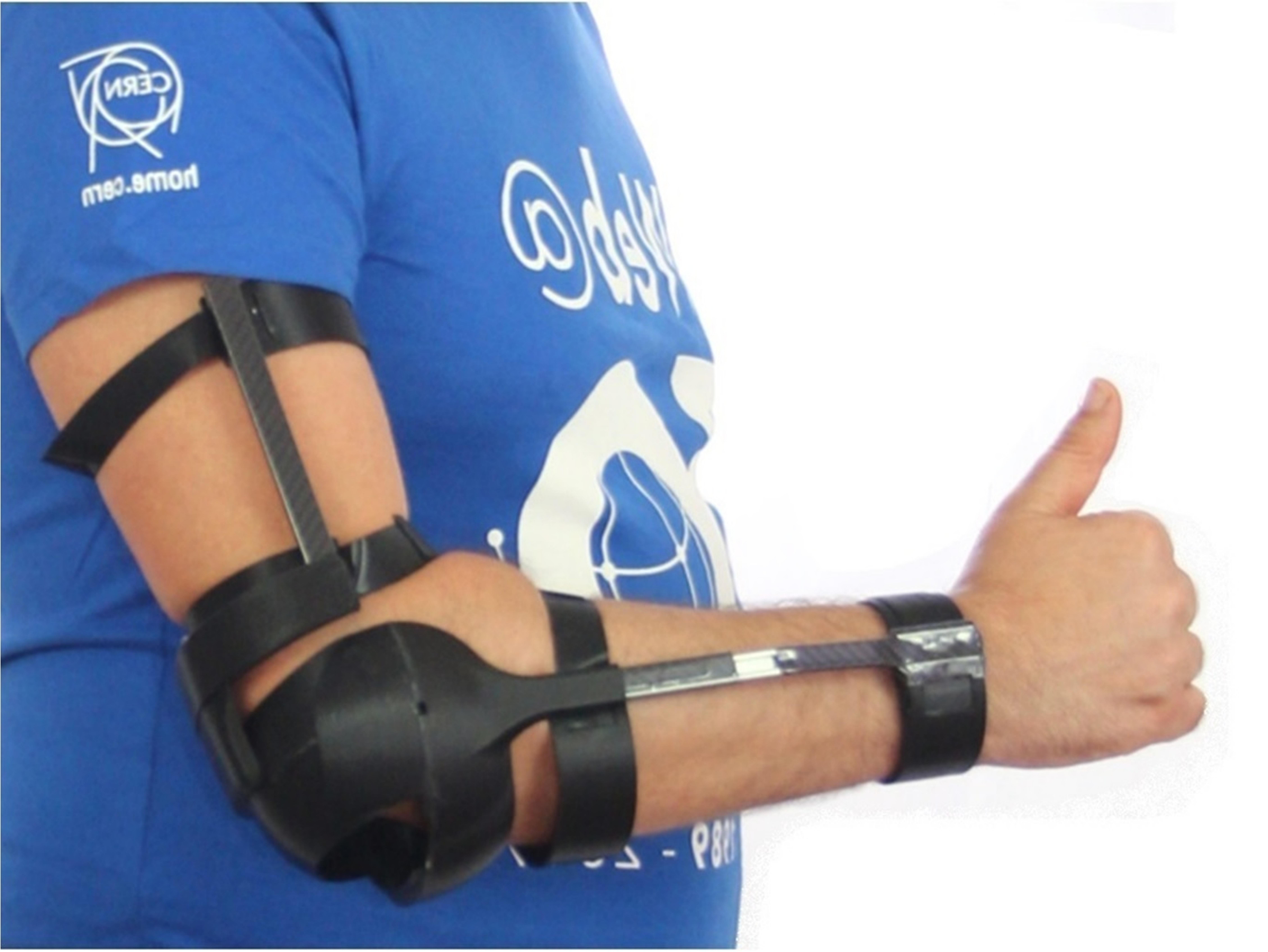 NeverMind 2.0
NeverMind 2.0, a world first, allows the rapid recovery of 100% of the functionality of the elbow, knee and every joint.
Usable 24/7 under any garment, it replaces the plaster and acts as an exoskeleton, orthosis and rehabilitator.
It only immobilizes the movement of the fractured bone and then gradually unlocks, following all the movements that the elbow (or the knee or each joint) can naturally carry out until total recovery.
The prototype now has a leaner structure with greater functions than the previous version presented at Maker faire 2019.
---
---
PhD Ing. Fabrizio Granieri, Dott. Emanuele Galantino
PhD Eng. Fabrizio Granieri
Fabrizio Granieri was born in Trani (BT) on May 16th 1970.
Since he is two years old he has been playing with real DIY tools, repairing the toys that break.
From eight,nine years old, he uses all the pocket money or asks Santa for just DIY tools.
Over the years, his propensity has led him to modify and improve these toys, for example by replacing the motor of the cars for the Polistil track with which he plays with friends (winning all the races thanks to the changes made), optimizing the brushes of contacts with the track and by adjusting and lubricating the gears for transmission, lightening the cars and adding weights (Bolts) to better balance them until a front-wheel drive machine is made using the denture resin supplied by a dental technician. Among the many other modifications that it makes to toys, for example, it transforms the sister's Barbie bathtub into a motor boat, using the engine derived from the water pump of a car's wipers.
Around the age of 11, acquiring more and more practical experience, a reversible battery screwdriver is built using the motor of a windshield wiper.
Eager to learn everything about the world of motors, mechanics and electronics, he attended workshops and laboratories, "stealing" the profession with his eyes.
It also deals with the maintenance of small changes on bicycles, scooters and cars
He graduated as an IT expert.
Since 1999 he teaches computer science lab in Secondary Secondary Schools.
In 2003 he graduated in Mechanical Engineering at the Polytechnic University of the Marches, and loved to define a "Mechanical Engineer" ever since.
In 2010 he obtained a PhD in mechanical design and biomechanics at the Polytechnic of Bari, specializing in structural optimization of finished elements, acquiring moreover skills in the field of carbon fiber elements also used for aeronautical use.
In 2018 he participates in Maker Faire with the multi-purpose wheelchair and Carica !!!
In 2019 he participates in Maker Faire with the engineered multipurpose wheelchair and NeverMind.
In 2019 he is selected and participates in the 40-hour training course at CERN in Geneva.
He lives as a maker when this term did not yet exist.
Acquires knowledge in mechatronics when this term did not exist.
He also designs and manufactures machinery: tower cranes, wheel washers for lorries, extensions for boring machines, dental implants, etc ...
Today with the development of new technologies, it uses the 3D printer and Arduino very well to speed up the production of prototypes that, in the past, made with any material available but with longer times.
He filed 8 patent applications at the UIBM for five of which, including the multipurpose wheelchair and for Carica!!!, has obtained the patent, while the other are being examined. He also deposited two PCT for Carica!!! and for NeverMind.
Emanuele Galantino, born in Molfetta (BA) on 21 October 1987. At his first Maker Faire (2020), he makes the world of inventions and the related economic-financial framework his passion.
He has over 8 years of experience in the financial sector, specifically in securitisation, project and leveraged finance, private equity and capital adequacy. He has always had a strong interest in venture capital, start-ups and inventions within real economy and financial markets.
He graduated in 2011 in Economics and Management at the University of Bari, followed by a specialist master's degree in English in Quantitative Finance and Risk Management at Bocconi University (2012-2013), a specialist training course (Cetif) in banking at the Cattolica University (2017-2019) and a master's degree in Circular Economy at the University of Exeter in the UK (2019).
He participates in panels on start-ups, inventions and patents because of his strong personal inclination, with a critical eye on value production and growth.
---
---
Health
PhD Ing. Fabrizio Granieri, Dott. Emanuele Galantino
2020
---
Back

Data updated on 2022-11-08 - 10.59.34 am
---