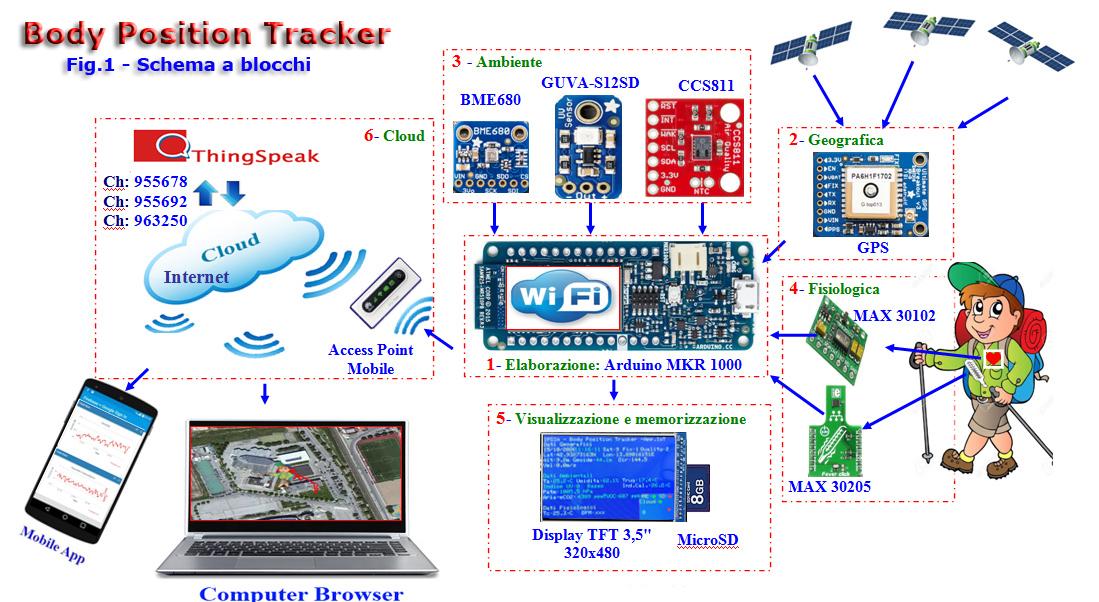 Body Position Tracker - Applicazione indossabile IoT
Body Position Tracker-IoT Wearable Application
Mapping tracking for Hicking
Description
Body Position Tracker is a wearable Iot system (Internet of Things), based on Arduino MKR1000, which combined with sensors and modules, is able to track, develop, display and send the following data to a Cloud:
 Geographical- Latitude, Longitude, altitude, direction and speed of travel, number of satellites picked up;
 Enviromental data- Air Pressure, temperature, humidity, dew point, heat index, UV rays, air quality;
 Physiological - Body temperature, Heartbeat, blood oxygenation.
Body Position Tracker is assembled on a vest, in picture 4 (annexed) is given the mapping of the electronics shown in the block diagram of picture 1(annexed).
The project which has involved classes 4 and 5 of the Electronics course, started in the school year 2019-2020 and will be ended in the school year 2020-2021 with the State Examination.
The initiative with its undiscussed deep multidisciplinary approach and value, has involved several subjects:
• Electronics - Prototype processing and programming
• Italian - Writing of a paper document and a Webpage
• Physics - Enviromental and geographical Parameters

• English - Translation of the project description, datasheet look-up
• Health - Monitoring air quality
• Physical education - Physiological parameters and importance of trekking activity
• Cloud and IoT - Data Registration on a server for the look-up from remote with mobile devices (mobile phones, tablets)
The testing, which has to be performed within April-May 2021 will allow to know and enhance the historical places of the planned route Sentiero della fede (path of faith), the Fortess of Mount Cretaccio, the Santuary, Monastery and Birth House of St. Giacomo della Marca, the monuments which have recently been renovated in Monteprandone.

Objectives
• Basic knowledge of GPS system, telecommunication, automation, sensors technology.
• Basic knowledge of geographical data detected from GPS system
• To raise awareness among the students as far as the environmental problems and the respect for nature are concerned.
• To evaluate and understand the physiological parameters during physical activity.
Planned route for the testing
Sentiero della FEDE – Ancient pathways used by pilgrims in order to visit the places of Saint Giacomo della Marca.
Departure: Ragnola Area (San Benedetto del Tronto (AP)) - Arrival in Monteprandone (AP)
Milestones: Ragnola, Fortress of Mount Cretaccio, Sanctuary Saint Giacomo della Marca, historical centre of Monteprandone, Birth house of Saint Giacomo della Marca, ancient wash-house, old fountain
Memo: Due to the Covid-19 Emergency the field test will be performed within the period of April/May 2021
Picture 1 shows the block diagram, pict. 2 the electrical scheme while picture 3 the mapping on a vest and a cap.
---
---
Classe: 5A IPAI - IPSIA "Antonio Guastaferro" Indirizzo "Manutenzione e assistenza tecnica" - Opzione "Apparati, impianti e servizi tecnici industriali e civili"
Some of the most proactive students attending the 5th year for electronics have always followed with active involvement and cooperation all the project steps that have been carried out under the supervision of their teachers during lessons in order to integrate their school work experience.
---
---
Education
Classe: 5A IPAI - IPSIA "Antonio Guastaferro" Indirizzo "Manutenzione e assistenza tecnica" - Opzione "Apparati, impianti e servizi tecnici industriali e civili"
2020
---
Back

Data updated on 2022-11-08 - 10.59.34 am
---