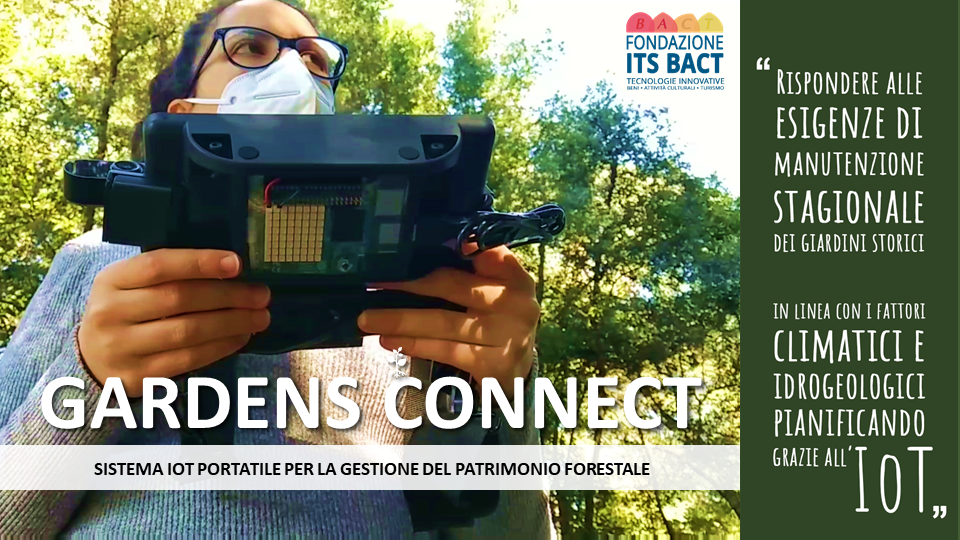 GARDENS CONNECT
Through the Internet of Things it will be possible to improve predictive maintenance operations, identifying multiple parameters that are measured and processed in order to predict maintenance interventions. It will be possible to develop a history of vetegation by mapping the characteristics, needs and history of the interventions, giving the possibility to recreate a sort of interactive encyclopedia of the vegetation that also acts as an "instructions for use".
---
---
ITS BACT "Restauro 4.0" Classroom - Alfonsina Verrilli - Stefania De Sio - Pablo Ramirez
Alfonsina Verrilli (Course Didactic Coordinator)
Stefania De Sio (ICT Specialist, ITS 4.0 & Design Thinking Referent)
Pablo Ramirez (ICT Specialist, Design Thinking & AI Developer)
ITS BACT "Restauro 4.0" Classroom (Higher Technician - Restoration site manager curricula: Restoration 4.0 Parks, Gardens and UNESCO site).
Students who made the prototype are:


Chiara Affabile


Chiara Amaturo


Michele Amordeluso


Alba Rosaria Ceruso


Vanessa Ciavarella


Luigi Crimi


Anna Di Costanzo


Maria Vittoria Maltese


Federica Manna


Giovanni Margiore


Francesca Riccio


Giorgio Storoni


The "Restoration 4.0 course" develops competency units that lead to learning units.
Besides the diploma, the enrolled students will obtain also certification as Art Gardner and a license for aerial platforms.
Learning outcomes:


Manage the operations within the architectonical and natural restoration site and Unesco green sites;


Designing and planning through the use of software like BIM – Building Information Modeling and GIS – Geographic Information System;


Architectonical and natural restoration site Planning:


Prepare the instruction (data, technical and legal information);


Collect and integrate planning and monitoring documents;


Prepare technical documents for work testing;


Quality management and monitoring plan.


Management of the construction site and computation


Implementation of the executive project of the works and management of human and technical resources, coordinating the subcontract companies;


Monitoring of logistics and supply;


Monitoring the execution of works;


Use BIM (Building Information Modeling), and GIS (Geographic Information System), and all the newest tools for smart building and restoration;


Project of preservation and maintenance;


Preliminary evaluation of preservation and maintenance projects.


---
---
Education
ITS BACT "Restauro 4.0" Classroom - Alfonsina Verrilli - Stefania De Sio - Pablo Ramirez
2020
---
Back

Data updated on 2022-11-08 - 10.59.34 am
---