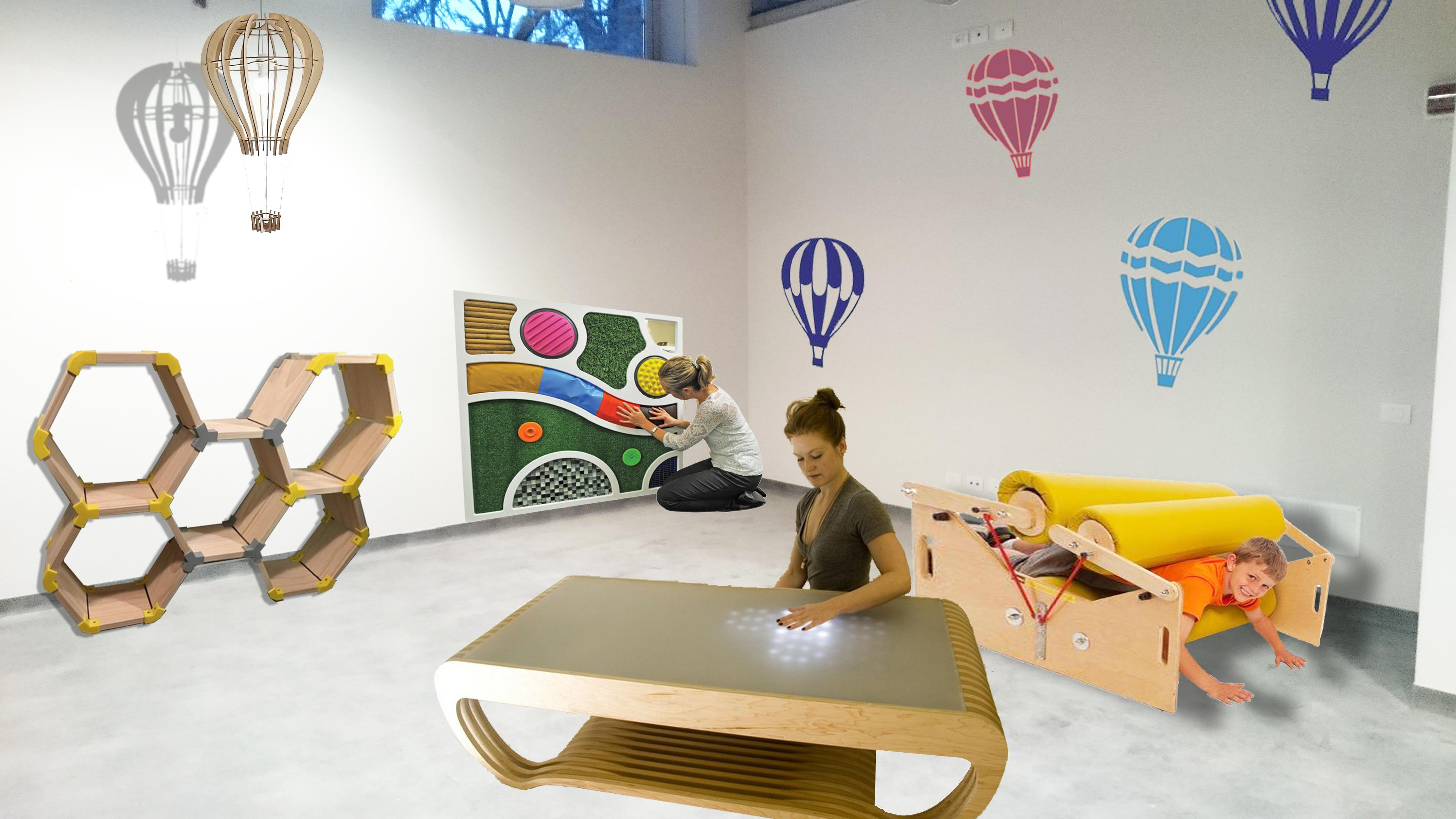 Spazio Gioco e Smart Room per bambini disabili
Multisensory experience space for children with disabilities: modular furniture, apps, lights, multisensory panels and toys with digital devices able to perceive pressure and change of position / orientation and to create light, sound and vibration effects. Interaction with a physical and virtual world during the educational or rehabilitation activity, in a game proposal idea with a comfortable and relaxing atmosphere, by learning concepts and words, generated by sensors and lights that dynamically adapt to the environment.
---
---
We Do Fablab
We Do Fablab represents a community of DIY, crafting and innovative technologies lovers in the province of Novara, Varese, Verbano Cusio Ossola and Vercelli.
We Do Fablab is a laboratory that has different production technologies offering the possibility to create customized products, or improve existing products by adding or removing functionalities. Open source and open design philosophy represent great potential for the development of new ideas and skills.
We Do Fablab is a co-working and co-making space acknowledged by the FAB FOUNDATION of the M.I.T. of Boston (USA).
A place of technological production and digital craftsmanship. A cultural space open to everybody!
We Do Fablab was born in 2013 from the collaboration between two youth associations in Novara.
The first headquarters was located in an industrial warehouse in the industrial area of ​​Fontaneto d'Agogna (NO).
Since 2014 the project has been managed by the We Do Fablab Cultural Association, based in Borgomanero (NO).
During 2016 We Do Fablab managed workshops in the Novara area, signing in May 2016 a partnership with Bellinzago Novarese administration: an informa-job desk is set up offering job and training support.
On 4 March 2017, the new headquarters were inaugurated in the center of Bellinzago Novarese. A historic artisan shop comes back to life!
PROJECT TEAM:


Massimiliano Ferré / project manager / designer


Alessandro Ceruti / handcrafting / app developer / hardware assembling


Simone Miglio / handcrafting / app developer


Giacomo Coppo / woodworking


Amanda Márquez / woodworking


Ermes Marcigaglia / electronic and software developer


Gabriele Cacocciola / handcrafting


---
---
---
Back

Data updated on 2022-11-08 - 10.59.34 am
---